We're Getting Mutants in the MCU - The Loop
Play Sound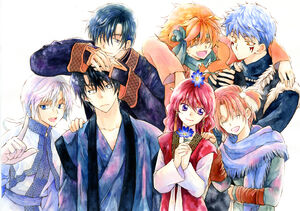 Akatsuki no Yona (暁のヨナ, Yona of the Dawn?) is a manga series written and illustrated by Kusanagi Mizuho. It follows the story of a 16-year old, red-haired girl named Yona.
Once upon a time, 2,000 years ago the Kingdom of Kouka was founded and ruled by a red dragon who came down to Earth from the Heavens changed into a human by the name of Hiryuu. By his side, four warriors imbued with dragon blood from the Gods who helped him lead the kingdom to prosperity. Time passed, and this tale became a legend to tell children.
2,000 years later, the kingdom had no male heirs but a sole princess named Yona who lived a life of lavish ease. In love with her cousin, Soo-Won, and protected by her bodyguard, Son Hak, she had everything she ever wanted and was sheltered from the harrowing reality outside the castle walls. Contrary to this peaceful illusion, Kouka went through an undergo a political upheaval from within the kingdom. After her beloved Su-won staged a bloody coup and murdered her father, Yona was forced to flee with only Hak by her side and started to live a life on the run.
Though surrounded by enemies on all sides, the banished princess still yearns to live and save her kingdom. Her solution comes from an exiled priest, who tells her that her only hope is to find the four legendary dragon warriors. Guided by this seemingly fictitious myth, Yona sets out to find these warriors, determined to fight for the throne, and restore the kingdom while making new friends and allies along the way.
Volumes
[
]
Volume 1

Japanese Release Date

January 25th, 2010

Chapters:







ISBN: 978-4-592-19081-3
Volume 2

Japanese Release Date

May 5th, 2010

Chapters:







ISBN: 978-4-592-19082-0
Volume 3

Japanese Release Date

September 25th, 2010

Chapters:







ISBN: 978-4-592-19083-7
Volume 4

Japanese Release Date

January 25th, 2011

Chapters:







ISBN: 978-4-592-19084-4
Volume 5

Japanese Release Date

May 25th, 2011

Chapters:







ISBN: 978-4-592-19085-1
Volume 6

Japanese Release Date

September 25th, 2011

Chapters:







ISBN: 978-4-592-19086-8
Volume 7

Japanese Release Date

November 25th, 2011

Chapters:







ISBN: 978-4-592-19087-5
Volume 8

Japanese Release Date

March 25th, 2012

Chapters:







ISBN: 978-4-592-19088-2
Volume 9

Japanese Release Date

July 25th, 2012

Chapters:







ISBN: 978-4-592-19089-9
Volume 10

Japanese Release Date

December 25th, 2012

Chapters:







ISBN: 978-4-592-19090-5
Volume 11

Japanese Release Date

April 25th, 2013

Chapters:







ISBN: 978-4-592-19691-4
Volume 12

Japanese Release Date

August 25th, 2013

Chapters:




ISBN: 978-4-592-19692-1
Volume 13

Japanese Release Date

December 20th, 2013

Chapters:




ISBN: 978-4-592-19696-9
Volume 14

Japanese Release Date

April 20th, 2014

Chapters:







ISBN: 978-4-592-19694-5
Volume 15

Japanese Release Date

October 20th, 2014

Chapters:







ISBN: 978-4-592-19695-2
Volume 16

Japanese Release Date

December 20th, 2014

Chapters:







ISBN: 978-4-592-19696-9
Volume 17

Japanese Release Date

March 20th, 2015

Chapters:







ISBN: 978-4-592-19697-6
Volume 18

Japanese Release Date

June 19th, 2015

Chapters:




ISBN: 978-4-592-19698-3
Volume 19

Japanese Release Date

September 18th, 2015

Chapters:




ISBN: 978-4-592-10512-1
Volume 20

Japanese Release Date

March 18th, 2016

Chapters:







ISBN: 978-4-592-21510-3
Volume 21

Japanese Release Date

August 19th, 2016

Chapters:







ISBN: 978-4-592-21511-0
Volume 22

Japanese Release Date

December 20th, 2016

Chapters:







ISBN: 978-4-592-21512-7
Volume 23

Japanese Release Date

April 20th, 2017

Chapters:




ISBN: 978-4-592-21513-4
Volume 24

Japanese Release Date

August 18th, 2017

Chapters:







ISBN: 978-4-592-21514-1
Volume 26

Japanese Release Date

April 20th, 2018

Chapters:







ISBN: 978-4-592-21516-5
Volume 27

Japanese Release Date

August 20th, 2018

Chapters:







ISBN: 978-4-592-21517-2
Volume 28

Japanese Release Date

November 20th, 2018

Chapters:







ISBN: 978-4-592-21518-9
Volume 29

Japanese Release Date

April 19th, 2019

Chapters:







ISBN: 978-4-592-21519-6
Volume 30

Japanese Release Date

August 20th, 2019

Chapters:







ISBN: 978-4-592-21520-2
Volume 31

Japanese Release Date

December 20th, 2019

Chapters:







ISBN: 978-4-592-22311-5
Volume 32

Japanese Release Date

April 20th, 2020

Chapters:




ISBN: 978-4-592-22312-2
Volume 33

Japanese Release Date

August 20th, 2020

Chapters:




ISBN: 978-4-592-22313-9
Chapters Not Yet In Tankōban Format
[
]
207. Revelations
209. Secret Life
210. Fatal Wound
211. As Is Natural
212. Yoon Off To Awa
213. A Dazzling Horseman
214. The Cost of Risking Your Life
215. The Fall of Kin Province
216. Overflowing
217. Tightly Closed Lid
218. The Horn that Beckons War
219. Human Weapon
220. Crush them!
221. Where Our Hearts Belong
222. Standing Side by Side
223. It's All or Nothing
224. Surpassing the Limit
225. Breathe Out
226. The tenderness of the dawn