We're Getting Mutants in the MCU - The Loop
Play Sound
The Chosen Door (選んだ扉, Eranda Tobira?) is the eighth episode of Kusanagi Mizuho's Akatsuki no Yona.
Summary
[
]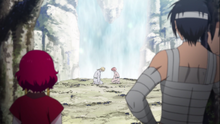 Yona reawakens at night, remembering what Ik-Soo had told Yona about Yoon. When Yoon was taking care of Yona, such as taking care of her hair by cutting it so it looked more proper, they have some casual conversation. Yona tries finding the right opportunity to bring up the topic of Yoon joining Hak and Yona, but the opportunity is eventually passed. Yoon shows Yona a book he got from Ik-Soo, and shows off his reading skills. When Yoon leaves the room, Ik-Soo asks Yona about how Yoon was doing about the subject, only to find out that she hadn't asked him yet. Ik-Soo tells Yoon that he doesn't need him anymore, and that he can continue his life adventuring with Hak and Yona. Yoon runs off, and stands by a fire with the book, attempting to burn it. Yoon stops, and starts going over the past and how he had met Ik-Soo.
A younger Yoon was seen trying to threaten Ik-Soo into giving him his gold. Ik-Soo exclaims that he had already given the last piece of gold to another child, and promises to bring back something well worth it for Yoon next time. When Ik-Soo turns to leave, Yoon invites Ik-Soo into his home. Ik-Soo sighs happily, now that he has a place to stay. During the night, Yoon applies medicine to Ik-Soo's forehead, assuming that he was asleep. Ik-Soo smiles at Yoon, for what he did. The next day, Ik-Soo returns and gives a sleeping Yoon a potato, immediately waking him up. Ik-Soo explains that he traded his shoes in for the potato, and Yoon questions why he would go to far to do that for him. After that, Yoon starts worrying that Ik-Soo will start getting cold from being barefoot, and Ik-Soo tells Yoon that he knew how to make shoes. Yoon becomes intrigued, and asks Ik-Soo to teach him how to make shoes. Yoon's shoes were perfect, and Ik-Soo's were sloppy and messy. Yoon offers his shoes to Ik-Soo in return for another lesson. Ik-Soo learns that Yoon could read simple books, and dreams of traveling. When Ik-Soo begins to leave, he promises Yoon that he will be back with a lot of books and souvenirs for him from the outside world. When Ik-Soo comes back to Yoon, he is worn out and beaten. Passing thieves had asked Ik-Soo about gold and stole his belongings instead when he told the thieves that he didn't have any. Ik-Soo goes on to say that he will stay away from people for a while, and came to say a final good-bye to Yoon. He turns around to leave when Yoon reaches out and grabs him, and pleads that he will go with Ik-Soo. They pull into a hug, and Yoon starts going with Ik-Soo.
Ik-Soo appears behind Yoon again, and asks him once again about traveling with Yona and Hak, as well as noting how Yoon's sandals were starting to wear out. Yoon points that out to Ik-Soo also, and decides to make him another pair. When Ik-Soo becomes overjoyed with his sandals, he spins and moves around and nearly falls when he catches himself. Ik-Soo goes on to say that he can handle himself. Yoon confesses that if Ik-Soo told him to travel with the two, then he would, even if he called the princess naive, and ignorant of the world. Ik-Soo starts crying after seeing that Yoon will be leaving him, and Yoon starts tearing up a little also. Hak and Yona are behind the bushes not to far from them, observing and smiling.
Yoon is now in front of Ik-Soo with his attire and bag, ready to accompany Hak and Yona. Hak questions about Yoon's bag and asks him if he had any books in there, stating that it'd be useless work. Yoon goes through his bag showing Hak, before he turns to leave him. Yoon waves his final good-bye to Ik-Soo, and Ik-Soo shows his face and smiles as he is leaving.
Characters
[
]
Characters in bold denote a character's first appearance
Characters in italics denote a character was only mentioned or shown in a flashback
Abilities, Weapons and Items Used
[
]
Trivia
[
]
[

]