Akatsuki no Yona

Type

Anime

Episodes

24

Air Date

October 7, 2014 – March 24, 2015

Genres

Action, Adventure, Drama, Fantasy, Romance, Shoujo

Original Creator

Studio

Staff

Director: Kazuhiro Yoneda
Writer: Shinichi Inotsume
Music: Kunihiko Ryo

Licensed by
Akatsuki no Yona
(暁のヨナ
Akatsuki no Yona
) is an anime television series adaptation by studio
Pierrot
based on the
manga
series of the same name by
Mizuho Kusanagi
. It is directed by Kazuhiro Yoneda and it began airing from October 2014 to March 2015.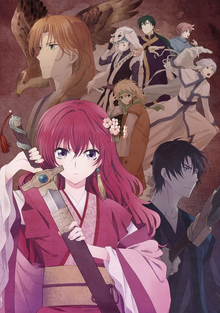 The story revolves around the pampered and sheltered Princess
Yona
who has been chased out of her castle after her father was killed by her beloved,
Soo-Won
during the night of her 16th birthday. She travels together with her bodyguard,
Hak
, and searches for the four legendary dragons to protect the ones she love and the country her father once protected.
Funimation has licensed the series for streaming and home video rights in North America on the same month the anime aired.[1] On March 2015, an English broadcast dub has been made available for the second half of the series.[2][3]
Episodes
Edit
02
Torn Bonds
(ちぎれた絆 Chigireta Kizuna)
October 14, 2014
05
Howl
(咆哮 Hōkō)
November 4, 2014
06
Red Hair
(紅い髪 Akai Kami)
November 11, 2014
07
Destiny
(天命 Tenmē)
November 18, 2014
14
Light
(光 Hikari)
January 13, 2015
16
War Games
(戦ごっこ Ikusa Gokko)
January 27, 2015
18
Ties
(縁 Enishi)
February 10, 2015
21
Spark
(火花 Hibana)
March 3, 2015
Key Visuals
Edit
Promotional Videos
Edit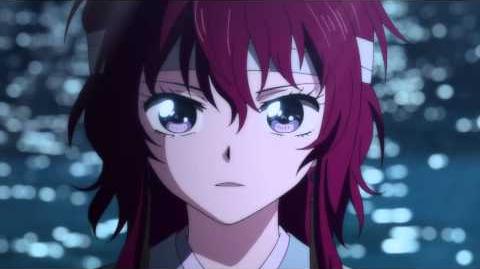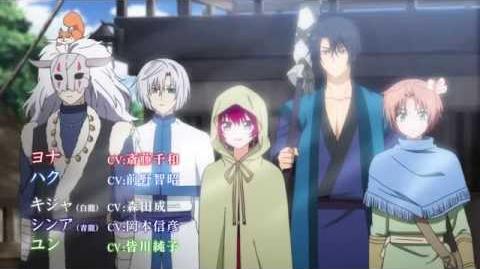 External Links
Edit
References
Edit