| | | |
| --- | --- | --- |
| | A Wiki dedicated to everything about the Manga and Anime Akatsuki no Yona created by Mizuho Kusanagi. We aim to have referenced and detailed information on all of our articles, so please, feel free to help us with anything! We are currently editing over 383 articles on this wiki, though there are definitely more that can be made. Also please be careful about spoilers from the series, as this wikia is not spoiler free. | |
Characters
Featured Article
Sky Tribe

---

The Sky Tribe (空の部族 / Sora no buzoku) is one of the Five Tribes of Kouka Kingdom. Its capital is Kuuto, which is also the Imperial capital and seat of government of the kingdom. The chief of the tribe is currently Soo-Won and the general representing the tribe is Han Joo-Doh.

The Sky Tribe is located in a mountainous valley in the center of Kouka. A mountain range separates the Sky Tribe from its northern neighbour, the Fire Tribe, and the Wind Tribe to the west. To the east of the Sky Tribe is the Earth Tribe  and to the south east, the Water Tribe.
Recent Translated Manga Chapter
Chapter 187: Secret
---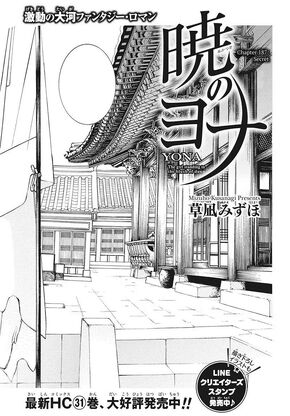 Spoiler alert! Read at your own risk!
Click here to read the full translated chapter.
---
The Dragon Warriors question why they are prohibited from visiting Yona. Jae-Ha later decides he will use his power to check out Yona and Hak's condition.
Meanwhile, Han Joo-Doh also tells Yona that she is forbidden to meet with the Happy Hungry Bunch. Yona tells Joo-Doh she is disappointed with him and requests to see Soo-Won.
Hak is helping the Sky Tribe soldiers with their chores and training. Hak notices Jae-Ha who is dressed as a civil servant. Hak hurts him and uses an excuse to speak with him privately. Hak tells Jae-Ha he enlisted in the Sky Tribe army whilst Yoon is studying in the library. Jae-Ha invites him to see Yona, but Hak refuses to prevent commotion.
Yona visits Soo-Won's disordered office. Min-Soo tells Yona he was told not to tidy it lest Soo-Won ceased to know where everything is. They find Soo-Won sleeping. Min-Soo states it's due to the hypotonic he gave him, but Yona quakes with fear. Piecing everything together, she realises Soo-Won's condition closely resembles his mother, Yong-Hi's own. She questions if the reason behind her being forbidden to contact her group is because she saw Soo-Won's illness. Min-Soo states only Soo-Won's closest aides know his condition. Others are punished with death. Yona is spared because she is needed. To protect her and the others, they must prevent her from spilling the secret out: Soo-Won's illness is fatal.
In her room, Yona ponders. Jae-Ha appears after Yona sadly says that it's almost as though her legs are gone for she cannot stand. Jae-Ha says he will help her meet Hak, but Yona rejects. Although Jae-Ha knows Yona is lying, their conversation is cut short. Yona hurries Jae-Ha to leave before he is caught. Emotionally drained, a lonely Yona calls out Hak's name.
Recent Anime Episode
Episode 24: From Now On

---

Soon after Yona and her companions mention searching for the yellow dragon warrior, he shows up at their campsite, drawn by the smell of food. Jae-Ha, Shin-Ah and Kija recognise the yellow dragon warrior, who casually greets them. He refers to himself as Zeno and agrees to join Yona's group for the food, although he didn't feel any awakening when he met her. Zeno claims he has a tough body, although he doesn't appear to have any power. Kija is disappointed, but Yona trusts that he is the yellow-dragon. Yoon brings them all to the priest, Ik-Soo, and asks him what the sword and shield from the legend are. Ik-Soo tells them they will know it when it happens. Zeno asks Yona what she wants to do with the four dragons.
Other Websites You Might Find Useful
Official Sites
JpnHana to Yume

---

Official site of Hana to Yume, the Japanese company that publishes Akatsuki no Yona.

JpnMarv Japan

---

Official site for information on the Akatsuki no Yona anime. Best place for anime news.

JpnYaplog

---

Kusanagi Mizuho's blog with manga and Hana to Yume information, as well as personal notes.

JpnKusanagi Mizuho's Twitter

---

Kusanagi Mizuho own Twitter blog, with live personal updates, extra sketches and bonus information.

JpnAkatsuki no Yona anime Twitter

---

Twitter page for the Akatsuki no Yona anime, with air times, episode information and bonus material.

EngCrunchyroll

---

Website offering legal streaming of the anime, subbed and simulcast on Wednesdays 3:00am, EST.
Recent Blogs
Featured Picture
From left to right: Han Joo-Doh, Soo-Won, Kye-Sook & Lee Geun-Tae
Featured Quote
"
Words. There can be power in them. Sometimes they become words of power. So if you say it is fine, that may become the truth, and it will become fine.
"
Featured Media
The fourth anime promotional video for Akatsuki no Yona!
Did You Know?
...that in the latest volume release of Akatsuki no Yona, Kusanagi-san announced the official birthdays for the main cast of the series? They are as follows:
January 3rd: Shin Ah (from Hito [1] Mi [3], meaning pupil/eye)
February 3rd: Soo-Won (from Fu [2] Min [3], meaning sleeplessness)
April 6th: Kija (from Shi [4] Ro [6], meaning white)
April 7th: Yona (from Yo [4] Na [7])
May 4th: Jae-Ha (Japan's "Greenery Day")
August 9th: Hak (from Ha [8] Ku [9])
August 30th: Zeno (Japan's "Happy Sunshine Day")
September 25th: Yoon (Japan's "Housewife Resting Day")
Poll
Out of all of the lovely characters in Akatsuki no Yona, the one who seems to be the topic of the most controversy is our king-slayer Soo-Won. Whether you love him or hate him, odds are you have come across someone with a drastically different opinion to you where he is concerned. To get a more general look at the fandom's opinion on the man, we now ask you this: What is your opinion on Soo-Won?
What do you think of Soo-Won??
Poll Results
We asked about some characters who are a little less known than our Dark Dragon and the Happy Hungry Bunch, and you answered! With Hak out of the picture... someone still managed to dominate the poll. Much to my surprise, it was Hak's grandfather Mundok who you decided was your favourite past/present general! Full results are below:
| Position | Character | Votes | Percent |
| --- | --- | --- | --- |
| 1 | Son Mundok | 229 | 61.89% |
| 2 | Lee Geun-Tae | 88 | 23.78% |
| 3 | Tae-Woo | 32 | 8.65% |
| 4 | Han Joo-Doh | 14 | 3.78% |
| 5 | Kan Kyo-Ga | 5 | 1.35% |
| 6 | Kan Soo-Jin | 1 | 0.27% |
| 6 | An Joon-Gi | 1 | 0.27% |
Community content is available under
CC-BY-SA
unless otherwise noted.